Well 2011 is going to be a very interesting year. We're planning on competing in both the CSCS Time Attack Series (Full Schedule) and the CASC Castrol Time Attack Series (Partial Schedule). We're also going to be participating in some other events and schools throughout the season with the hopes of improving as a team.
With that being said the car has definitely changed since last season. It was a pretty busy off season for us with lots of new upgrades going into the car. This winter we really wanted to focus on making the car better and more reliable as well as improving on some of the shortcomings we had last year.
We started the winter out by trying to improve our top-end power, when we built the motor last year going from the 1.6L to the 1.8L setup shifted our power much earlier. We wound up with a car that had tons of power and torque down low but very little up top. This made the car a lot harder to drive, especially with our stock open differential (more on that later).
We added a set of Skunk2 Adjustable Pro Series Cam gears to try and dial in some overlap and shift the powerband higher in the RPM range. Unfortunately even after installing the cam gears the power was still coming in too early and dropping off in the higher RPM range, we also noticed that our manual boost controller was causing erratic boost level after 6500rpm. Still with the amazing tuning of Dynamotorsports tuning we managed to put down some very respectable power numbers.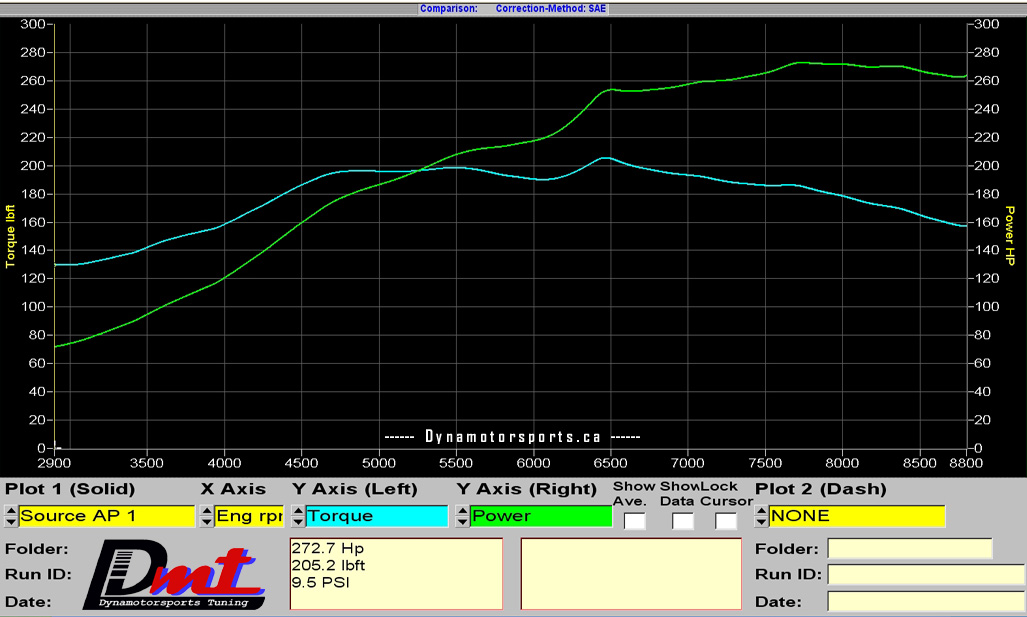 As you can see here we put down 272 WHP and just over 200 ft/lbs of torque. Not bad for a conservative pump gas tune and 9.5PSI.
We decided to head back to the drawing board and take a look at the entire setup to determine where the drop off was occurring. At first we thought it was the intake manifold causing the issues, we also knew that we weren't holding boost after 7500RPM so we knew that adding an electronic boost controller would help the problem out.
Tony from Dynamotorsports also suggested that we try a larger turbine housing on the turbo in order to help everything breathe, we could tell from how hot the car was running and how choked up everything seemed that the turbine was causing some issues. We decided to swap out our standard GT28RS turbo housing for an ATP T3 externally gated housing in order to help free up some top end power. That combined with an Apexi AVCR resulted in a very nice increase to our top end power and a much more usable power band.
The increase in the housing also helped to let the car run cooler than before as everything was working more efficiently than before.  At the same time we also decided to upgrade from our iffy Ebay Aluminium radiator to a Koyo Racing Radiator.  Last season we had some cooling issues that we addressed through the addition of a 25row Setrab Oil cooler.  However we still found that sometimes our water temperature readings would get higher then we wanted and we suspected our cheap Aluminium radiator as the culprit.  Koyo's radiators are second to none in terms of quality and cooling efficiency so we decided to upgrade to one of their racing radiators for this season.  I'm more then confident that it will help keep those water temperature numbers in check.
With all these upgrades we also went through a lot of things on the car that had given us trouble or that were not quite the way we wanted them to be and fixed them. We had some sensors for our gauges that needed wiring cleaned up. We took the time to check all the subframe and bushings for stress and wear and tear. Tony at Dynamotorsports also took the time to fab up a new polished overflow for our new radiator.
Last year I found the car to be a little too quite as well, talking with Tony at Dynamotorsports we decided that it was time to get rid of my almost 8 year old 3" stainless exhaust system and replace it with something a little more "racy".
Tony fabricated a brand new 3" Aluminum exhaust system that is seriously a work of ART! The entire exhaust system weighs just under 10lbs where as our old system weighed close to 35lbs!
We have to give a big thanks to Tony and Henry at Dynamotorsports without their continued efforts and support I don't think any of this would be possible.  Also have to thank my Dad our Lead mechanic for putting in so many hours on everything and hunting down all our parts!
We have a whole bunch more that we've been working on that I'll save for another post. I also should try and get some pictures of all this new stuff hopefully for this weekend.