Yesterday was the season finale for CSCS.  Yesterday was the day we got our first win.  Yesterday was the day our hard work finally paid off.  Yesterday is a day I will remember for the rest of my life.  Yesterday we proved how well Turbo Honda's worked as racing platforms.  Yesterday was a good day.
Leading up to the CSCS season finale I had high hopes, and was more excited then ever to get to the track.  The season has been a steady progression.  Every time we've been out we've gotten faster, we've gotten more consistent and I've gotten more comfortable with myself as a driver.  This year has been all about growth and the times have proven it.
We started this season in the 1:26 range and have been slowly eating away at that every time we've been out.  We've placed third in only our second time at Mosport Driver Development Track, and have been close to podiums at every event this season. I knew the car was capable of better though, I just needed to get it there.  As it turns out I was right and the season finale was the place that it happened.
The prep for this event was smoother then others, no late night wrenching, no last minute fixes everything just went smoothly.  Nothing was found in our race checklist, no issues besides fixing up a torn brake duct that we had tapped together earlier in the season, heck I even had time to wash and wax the car which I haven't gotten a chance to do since the beginning of the season.  We loaded the car up on the trailer at 5:00pm and I had a night to relax and mentally prepare for the race.
We got to the track early as usual and got started getting The car off the trailer.  I took the car through tech inspection as normal while my dad and Emily setup everything else.  I had time to check the pressures, check everything over a second time and wait for the first lapping session to start.
The first session out was a great start to the day, the car felt good, better then it had before which was weird because we really hadn't do anything to it.  I just felt connected with it for some reason.  After getting the tires up to temperatures I was off to see what we could do.  It seemed like everything was clicking because we were passing cars left right and center.  I decided to let the car cool down and bring it in to see what kind of times we were running.  To my surprise we had gotten in the mid 1:22s which was our best times of the season.  To say the least I was ecstatic!
We went out for another session and much the same we were around the 1:22s.  I had some issues with traffic so I ended up coming in early.  We sat the next session out to let the car rest.  I decided that the session after I would take my dad out so he could get a feel for the car and see what all our hard work had gotten us.
Once we were out on the track the car felt good, and we were passing cars all over again, unfortunately 3 laps into our run the brakes started to go on us.  Instead of risk pushing it any further I decided to do a few cool down laps and bring the car in to rest. Once we got back to the pits, when the smile was removed from my dad's face he had some tips of places he felt I could probably carry some more speed which I took note of and kept in my back pocket for the time runs.
We spent the rest of the afternoon waiting around for the timed sessions to start, we decided to run with the guys from Kensai Racing, and Teknotik who are all really great guys and definitely fast as hell!  We grided our cars in anticipation for our runs and after watching a few groups go out, including Sasha from SG Motorports who set the new track record again, we were ready to go!
We pulled up to the line, I put my gloves and helmet on and began the process of flashing my lines through my head.  Where was I going to brake, where was I going to turn in and then I started to think about my brakes.  Were they going to work, was the pedal softer then usual, what if they go, what if … I pushed the thoughts out of my head and said to my self, screw it these brakes are going to stop you and if they don't you're going to make the corner anyway.  With that the cars ahead of me started to pull out onto the course and it was my turn at the line, 3 … 2 … 1 … GO!!!
I was off as fast I could, shifting up to 3rd and speeding towards turn 1, I knew I needed to get as much temperature into the tires as possible so I was pushing hard right from the get go, I made it around to the front straight buried my foot to the floor and never looked back.
My first lap is usually my slowest but I knew it was pivotal to get this lap right and get as much temperature into my tires and brakes as possible, the first lap was pretty uneventful I pushed harder and faster then before and when I got around to the front straight I knew I was going to push even harder this lap.  I braked later then I've ever braked for turn 1, I braked later then I ever braked for turn 2 and carried more speed towards the esses.  I carrier more speed in the carousel, and into the turn before the straight like my dad said I could, now I'm on the straight and I'm shifting up through the gears into 5th.  I know I'm going to go further before braking again to tempt fate.  I hit the brakes harder and later then ever before and the back end starts to come around, I catch it and correct but I've lost some corner entry speed.  I push hard into turn 1 and brake even later for turn 2 carrying as much speed as I can, I lock up going into turn 3 and push out wide I know this isn't going to be the best lap but I keep pushing anyway.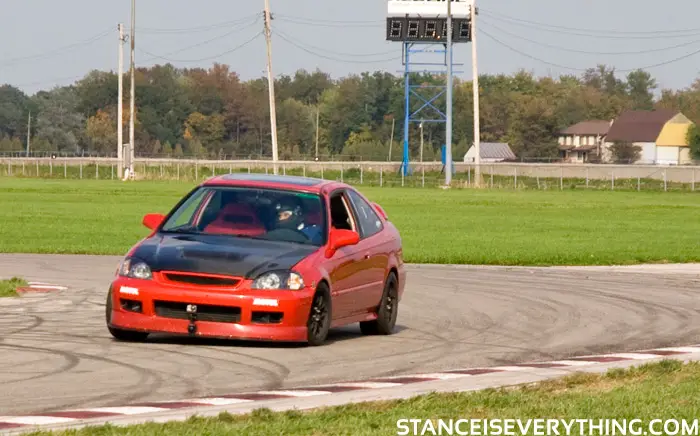 I make it around to the front straight away and see the checkered flag wave, I know I've pushed as hard as I could now I just need to wait and see what my times were.  When I got back to the pits, people were giving me the thumbs up and taking pictures, when I got back to my pit Emily and my dad were cheering, Emily leaned into the window and told me time … a 1.21.871!
I can't believe it that's our best time of the whole year and a new personal best!  I'm ecstatic!  Words cannot even begin to describe how good of a feeling it was hearing that time and knowing that we pushed through the entire season not doing a lot to the car but getting faster every time we went out.
I waited to watch everyone else run in my class and prayed that no one bested my time.  Once all the time were tabulated I ran to the board to see my name … 1st place!!!!!  This also mean that we had solidified 2nd place overall in the championship which I was very happy with considering we didn't place in the first event.
I have to say thank you to my Dad, Emily, Mom, Emily's Dad, Dynamotorsports, Tony and Henry, Paragon Competition and Motul for all their support and hard work throughout the season.  We couldn't have done it without all your support.